Happy Easter Weekend Sweet Friends!!!  He is Risen…best gift EVER!!!  Weather permitting another baseball game this weekend…the boys are so excited because Gigi – the birthday girl and Pa are in town to watch them!  Here's what I've been up to in my free time — haha, what's that!?!? I have some great giveaways in the works, if you'd like to host a giveaway at It's Overflowing and Barns & Noodles linky party, email me!
Check out these features…
AND
Meals for the Week (here)
Overflowing with Creativity's button for your sidebar
Too Much Time On My Hands
…Saturday Linky Party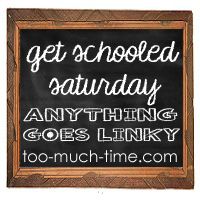 And Now for the Party — I'm Excited to See Your Projects!
Thanks for linking up at It's Overflowing – Overflowing with Creativity Party and Barns & Noodles – Cream of the Crop Recipes Party…I'll be featuring some of your awesome projects!!! XO, Aimee